Text further down.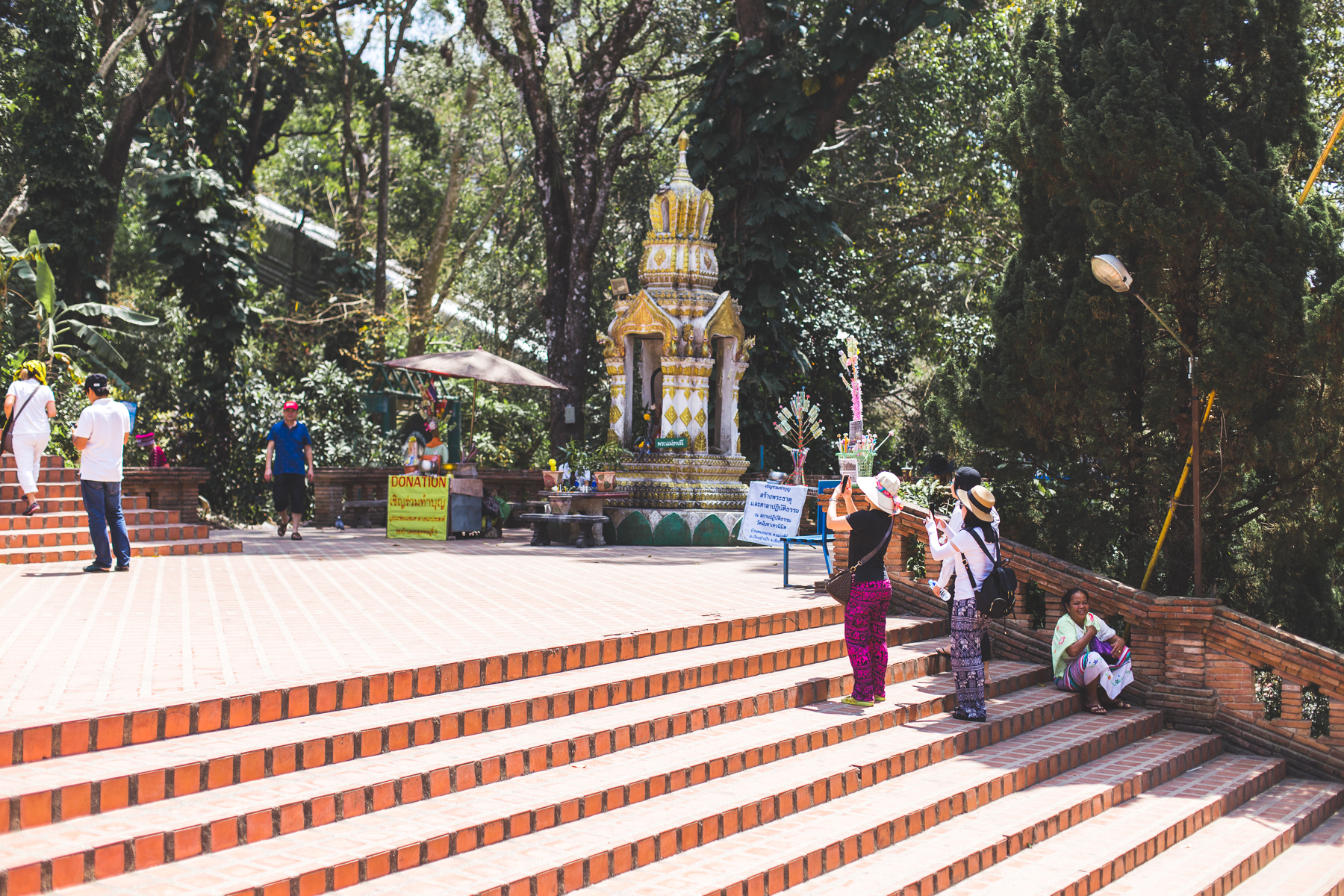 I am trying to put words to my thought about our trip to Thailand last spring. But instead of words I am getting caught up in sights, sounds and smells. The taste of curries and mango fried rice. The salty water splashing up on the side of a boat. The glimmer of the golden temples and the shade they provide in the never ending sun. All these things that make up a country, a culture and a people. All these things that you get a glimpse of while visiting for far too few days. 
Bangkok
Bangkok, Bangkok, Bangkok, where do I start? This flurry of people all mixing together. Of Thai people, of tourists and of all the backpackers in the world. All at one place. It was hectic, and we walked, a lot. When we weren't walking we took Übers, which are apparently better than taxis if you're scared of getting scammed. However the traffic is appalling and in the end we realised it was probably better to just hop in a tuk-tuk. Something for the locals and/or the adventurous is to get a moped-taxi. You know, if you don't care so much for your life.  
Staying
Siamotif Boutique Hotel
For our first couple of nights in Thailand we stayed in this adorable little hotel right by the canal. We were incredibly jet lagged and after finally arriving at the hotel after some struggling (it's quite hard to find) we got our room and fell both asleep and in love with the room. 
Our room was called the The Golden Crane, and it was ornated with (what I am just going to assume was) hand painted cranes on the walls. It was a simple room, in a simple wooden house. With glass less windows and a gap where the ceiling usually meets the walls. The bed was set on a wooden platform and it took up most of the room. The other part was a shower and a toilet. Both quite visible to the rest of the room. This is not for the shy travelers, but it was clean and romantic and we slept like babies.
At night we walked up the steep steps of the hotel up to the roof where a small balcony overlooked the canal. The lights of the city glimmering in the water and the warm air surrounding us. It was a moment of quite in a constantly buzzing place. 
Being vegan always adds an extra knot in the rope when traveling. But the kind people at Siamotif took it all with a smile. We explained to them what we don't eat and they served up an amazing breakfast for us. We were introduced to a dish that I can still day dream about, and I try to make my own version as often as I possibly can. It's called Pad Pak Boong Fai Daeng and it is basically stir fried Chinese morning glory (a leafy green) with garlic and chili. When I make it at home I use mushroom sauce and soy sauce to get the right seasoning without using oyster sauce. 
We were also served a large selection of fresh fruits, fruits we couldn't name but that had more flavour than we had ever tasted before. Coffee, tea, juices and toast was also served, all in a room overlooking the canal. A room with walls so open that you weren't sure you were inside or outside.
Old Capital Bike Inn
Before heading back home we spent one last night in Bangkok. This time we stayed in a hotel close to Khaosan Road, the infamous tourist street. Old Capital Bike Inn is another cute little boutique hotel with rooms all different from one another. For instance – our room had a garden, with a bath tub! And a four poster bed! It was so cute I wanted to die. Sadly we didn't have that much time considering our flight was delayed so we got there late at night, and then we had to get up early in the  morning to catch the flight home. 
This hotel also had a lovely breakfast and we left it saying this would definitely be where we stay if we ever come back to Bangkok.
Sights
The Grand Palace and The Emerald Buddha
We visited The Grand Palace, where the mourning of the king was still in full swing. Mind, he passed away almost 6 months before this, but the whole country was still in its mourning period. If I remember correctly this is still going on. 
The Emerald Buddha is quite small and I can't remember it making that much of an impression to me. The Wat Phra Kaew where it is kept is a very shiny place that mostly just made me think of The Wizard of Oz. Or a very strange version of Disneyland.
The Grand Palace is pretty much just that – grand. Towering shiny buildings, statues of buddha, demons and guards, more gold than you could never imagine. We spent hours inspecting wall paintings depicting battles only fought in stories and just being in awe of the extreme richness we were surrounded by. 
It is definitely a country of contrasts in that sense. The streets are grey and people's homes can be very simple. And when visiting you spent most your time walking among gold and precious stones. As a christian, I was brought up learning that God doesn't care about riches, God doesn't care for money or how pretty you are when you go to church. God cares about you – the gritty, dirty you. And from the depiction of buddhism that we are exposed to in todays western society I had gotten the feeling that buddhism was very immaterialistic as well. Now when I have seen the temples I question this image a lot more. 
The Grand Palace was as I mentioned also the home of the King. The Royal family is seen as deities in Thailand, the king may have passed away, but he is very much alive in the heart of the people. The Grand Palace usually opens up parts of the palace where the royal family stays, but when we where there it was open for Thai people only. Thai people who wanted to pay their respects to the dead king.
Chinatown
A friend of mine who lives in Bangkok told me about Chinatown. She said she goes there to have dinner with her friends. And food is definitely something you can get here. This part of town had a vibe of its own. A rhythm that was different to the rest of Bangkok. Smells that where different. Roasted ducks were hanging from every other storefront, sweet pork meat balls were served from every street cart, strange fruits and medicines were sold out of crowded shops. 
It was such an intense scene that we just walked around people watching and taking photos. But if you are a fan of the meat you should probably stop by here for some nice Chinese food. Try the duck. I am sure you won't be disappointed.
Jim Thompson House
Are you a fan of Thai silk? 
Then you have Jim Thompson to thank. 
Mr Thompson was the man who industrialised the silk business in Thailand and who brought it to the world. He was also a big fan of Thailand in general and he decided to build the ultimate Thai house in Bangkok. Thompson was also a fan of buddhist astrology and he was an art collector that filled his home with some of the most stunning art work from around south east Asia.
The house is still there, and it is gorgeous. But Jim Thompson is gone. One day in 1967, he decided to go for a walk in the jungle, and never came back. But as I mentioned – the house still stands. It is a traditional Thai house, it stands on poles and you can go on a guided tour in it. There are tours in quite a few languages and you are not allowed to wander the house without a guide. Ours was very sweet but you can tell that they only learn what they need to say to keep the tour going. They encourage you to ask questions, but they are far from experts. 
Jim Thompson House is a calm oasis in the middle of the rush of Bangkok, and it was a nice way to spend an afternoon. Just remember, if you're planning on visiting the gift shop, please remember to bring the big wallet. 
Wat Pho // The Temple of the Reclining Buddha
One thing that is probably on most people's Bangkok bucketlist is The Reclining Buddha. The huge golden monstrosity that is the lying Buddha. So of course, we were not alone when visiting Wat Pho, the temple that houses the statue. 
To be frank – the Reclining Buddha was not the highlight of this place. The temple is small and crowded and you basically walk around the statue trying not to get into other people's selfies with it. No, the real beauty of Wat Pho is that it is so big and that there are like a thousand other Buddha statues that you can look at. 
Wat Pho is a labyrinth of temples and small gardens, it is a lot more simple in its style than The Grand Palace and it feels more like a place where people actually go to worship than many of the other large temples. We spent a long time here, exploring all the corners and nooks. 
Wat Traimit // The Golden Buddha
Situated on the steps to Chinatown we explored this temple right by sunset. It was glorious. Less flare than the other temples and the white marble made the gold stand out even more. 
Aesthatically speaking this was probably my favourite place in Bangkok. It was calm, it has a beautiful view and the Golden Buddha inside was stunning. 
Khao San Road
If you don't go to Khao San Road, you haven't been to Bangkok. It's as easy as that. 
This is where you get your pad thai, your spring rolls, your 100 bath trousers with elephants on them. This is where you drink beer and watch a football game. This is where you get a massage in the middle of the street. This is where all the backpackers live, work and drink. 
This is Bangkok.
Eating
Bonita Café and Social Club
This place wasn't easy to find, but it had some great food. The food is more American than Thai, but it is cheap and the plates are stacked. 
May Kaidee Vegetarian Restaurant
Not the cleanest of places we went to, and the service was far from perfect. But the food was good, cheap and situated very close to Khao San Road. I had a fresh coconut and then we had pretty much everything on the menu. 
Mango
This place is also close to Khao San Road and it houses not only some good veggies, but some really cute cats! 
You can chose to sit on the floor or on a chair and the food that is served is nice, fresh and no-fuzz Thai! 
Chiang Mai
We took the night train from Bangkok to Chiang Mai. It left at around 6 pm and we were in the city of Chiang Mai 7am the next morning. The train was very comfortable, all new and the only bad thing I have to say about it was that the lights were on all night so I couldn't sleep. But hey – the rest of the train seemed to be just fine.
If you're not familiar of Chiang Mai, it is one of the most northern cities of Thailand, surrounded by mountains and visited by an obscene amount of Chinese tourists, and backpackers alike. It is both smaller and calmer than Bangkok, but it somehow manages to clock in on 40-something wats (that's temples if you hadn't figured that out yet) inside the old city. 
The old city of Chiang Mai is surrounded by a moat and still on some places – a big fortified wall. It is a very square city so it is also quite easy to locate yourself. However, don't be too brave, ask for directions if you need it. We got lost a bit. But hey – we saw some pretty cool stuff. 
Staying
Green Tiger Vegetarian House
Chiang Mai is filled with hostels and hotels just waiting for you. But I think we found the ultimate hotel for us. The Green Tiger is both a hotel and a hostel, giving you the choice on the standard you need. 
We went for the "hotel" part. We had our own room and the big breakfast package. Now if you haven't noticed yet – I am big on breakfast. At Green Tiger we got to chose one small dish, like fruit and muesli, and then one big dish, like banana pancakes. S had banana pancakes every day. Personally I decided to try as much of it as I could. I had rice soup, scrambled tofu, and at one point – three different types of fried rice. In other words, breakfast heaven. 
The hotel also has a small pool and there's toast and refreshments available at all time. The staff is super friendly and all speak good english. This was such a cosy place, definitely a place to revisit! 
Sights
Wat Prathat Doi Suthep
This temple holds a relic of Gautama Buddha. Legend says a white elephant carried the Buddha's remains, was released and walked all the way to the top of the mountain Doi Suthep. There it trumpeted thrice and then dropped dead. The monks saw this as a sign and decided to build a temple right at that spot. So if you are asking yourself why you have to climb all those bloody stairs it is apparently because of that dead elephant. There's a statue of said elephant inside the wat, so you'll have the opportunity to tell it how you feel. 
The way up to Doi Suthep is long, and the best thing is to get a red taxi, the red taxis are all over Chiang Mai, and they make you feel a bit like cattle in a truck on your way to the slaughter house. But they are actually the easiest way to get there. Sorry. 
Once you're up there you'll have to climb some steps. And by some I mean all of them. But hey – if the 60 year old Thai grandma in front of you can do it – so can you. 
There's a nice forest around the wat and we went for a walk in it. To be honest we pretty much got lost in the jungle. There are guided tours though, for a better experience. 
Wat Chedi Luang
Chiang Mai ain't short on ruins. This ruin was once a temple. Now it's like a ruin taken from Indiana Jones or something. 
Wat Phra Sing
The cool thing about Chiang Mai is that it is filled with monks. They are everywhere, in every wat, and they are just doing wat-ever (get it?).
Some temples organise monk-chats, where you can ask the monks whatever you want and they can practice their english. Sadly we weren't organised enough for this. But if you're heading to Chiang Mai you should definitely check it out!
Chiang Mai City Arts & Cultural Centre 
This museum was a blessing on a hot day! A great excuse to be in the shade, and it was quite enlightening! 
You learn about the story of Chiang Mai and how the hill tribes still live to this day. It shows the full culture, all from food to clothing, to music and dancing. 
The Sunday Market 
On Sunday evenings all of the center of old Chiang Mai turns into a huge market. 
This is where you spend your cash on hand made sun glass cases and wooden kalaha games. I bought a lantern and some incense and now the flat feels just like Thailand.
Oh and don't forget to bring mosquito spray or something because you will be eaten alive as soon as the sun goes down.
The Night Market
Once again, we made the mistake of walking to this place. It is quite far outside the old town and we walked for FOREVER before we got there. It is basically just like Khao San Road but a lot bigger and in the dark. I finally bought that pair of elephant trousers and we got to hear some sweet cover music from all the tourist filled bars. We ended up taking an uber back to the hotel and decided not to walk anywhere ever again.
Wat Suan Dok
If, just like me, you're into the whole white marble thing you are going to L-O-V-E this place. 
It's some way out of town, we took an uber there and then walked back, because we never learn. 
Eating
The Reform Kafé at The Green Tiger House
We spent most of our nights eating at the restaurant at the hotel. And their dinner is just as good as their breakfast! I recommend the local speciality Khao Soi Soup or the Massaman Curry that ended up being our go to dinner all throughout our journey. The best thing coming out of this kitchen though is their rice milk and pineapple shake. I swear to God it is the stuff of dreams. 
Cat House Chiang Mai
I think this is my favourite place we went to. We even went there twice! It is a short walk outside the old city walls, in an area crammed with hostels and backpackers. The staff is super friendly and the food is amazing and innovating. 
I had a curry burrito at one point and it was bliss! They also have amazing cakes and drinks and I wish I could have dinner there every day. 
Free Bird Café
This is a nice and cool place for fresh food and some good karma. They have a second hand shop in the store and all proceeds go to work with Burmese refugees and indigenous people. 
This is a great place if you're into the whole smoothie bowl and chia seeds thing, but if you want to chill with the locals you have come to the wrong place. 
For the last four nights of our stay we decided to go to the beach. I mean hell – if we're gonna go to the other side of the world we better get some down time too. 
So we took a plane to Krabi and then got a ride to our hotel in Khao Thong. 
Staying
Khao Thong Terrace Resort
We found this place on Airbnb and I don't think we really understood how remote it was. But in the end it didn't really matter. 
We stayed in this amazing bungalow with a view over the ocean. Every night we saw the sun set in the sea and in the morning we watched the tide roll in. Speaking of morning, our breakfast was a bit limited. There's not really anywhere else to go but to the hotel restaurant and they were not used to vegans. But the owners are the loveliest people you'll ever meet and they cooked up this amazing fried rice with vegetables that set us up for a full day on the beach. 
Sights
The Beach
We thought we were gonna spend some time seeing the area, but we ended up loving beach time so much that we just stayed there pretty much every day. 
The hotel owner drove us down to a beach near another hotel, we were basically the only people there. It was so serene and lovely I just wish I could back like right this instance. 
One day we decided to walk back from the beach. BIG MISTAKE. We never learn. We were pretty much delirious from the heat once we finally made it back. So yeah – just ask for a ride back. You don't want to walk. 
Boat trip!
We hired a boat (and a driver) for a day and went to what was supposed to be three islands, but I am pretty sure we ended up going to five of them. We saw hidden lagoons and busy beaches, secret paths and even monkeys! We got to feed wild monkeys with pineapple! Totally worth the trip!
It was something special seeing the huge jungle clad rocks coming out of the sea. Swooshing by the stunning nature and breathing in the salty air. Absolutely heaven.
Eating
Khao Thong Terrace Resort & Restaurant
All right so here's the deal. You are probably going to eat at the hotel you're staying at. Or at the hotel we were staying at. And you know why? Because the food is delicious. 
We had the pad thai, the massaman curry, the panang curry and all the mango sticky rice. We basically ate everything on the menu that didn't have meat. And every night there were groups of people there eating too. Even though it is quite remote people seemed to seek it up. That can only mean good things. 
In conclusion
Neither S or I had been to Thailand before, and we decided to do all of it in one go.
It might have been a bit intense, and it was maybe a bad idea to walk that much everywhere. And apart from a couple of insane allergic reactions to mosquito bites we had an amazing time. 
Bangkok was probably the least impressive of the three places, but the history of Chiang Mai and the nature of Khao Thong took our breaths away.
I will gladly go back.